Source:
Date: October , 2006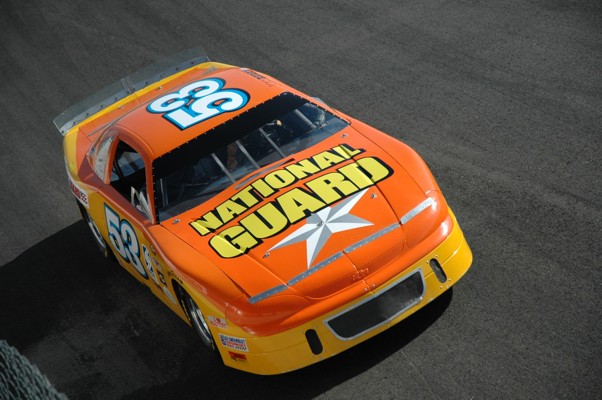 The 2006 season provided a great deal of excitement and opportunity for Tony Berry and the AJB racing team. The 22-year old Berry competed in three of the most competitive divisions in North West motor sports; Late Models, Sprint Cars and Midgets.
Driving the Idaho Army National Guard #53, Berry and team brought home Rookie of the Year honors in the Inland Northwest Super Stock Association (INSSA) while competing in their first full year of late model racing.

"We set out this year with a handful of goals that we had hoped to accomplish by the year's end. We achieved several of them and ran very competitively, but came up short in picking up the team's first late model victory for the Idaho Army National Guard and the rest of our great sponsors," commented Berry.

That win nearly came in the season finale on September 23. After starting the race in the fourth position, Berry made a move three-wide for the lead exiting turn four. The orange and yellow #53 ran mostly uncontested past the mid-way point of the 100-lap event when the handling on the car went away. "I am not exactly sure what happened. I was running pretty conservatively trying to save the car for the end of the race when it suddenly got really loose. It felt like I was running a dirt sprint car for the rest of the race. We put ourselves in a position to succeed though and I think it provided the team with some momentum heading into the off-season."

In addition to campaigning the late model stock car full time, Berry drove a partial schedule in the famed Voss Racing #45 midget for veteran car owner Dick Voss with the Washington Midget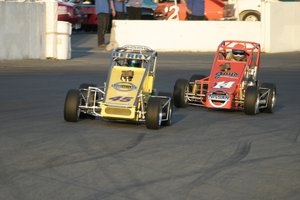 Racing Association (WMRA). The team's best run came at the Wenatchee Valley Super Oval in East Wenatchee, WA on August 5th. After qualifying 17th, the Nissan-powered #45 began to move forward in the field. Dispatching with many cars on the outside in the early laps, and running as high as 6th, Berry brought the car home in the 8th position.

"I can't thank Dick Voss enough for providing me the opportunity to drive his beautiful car. We were running a division II motor in the ultra competitive WMRA, which made for some uphill battles at times, but these cars are so much fun to drive and the racing is so close, it's hard not to have a great time," said Berry.

The final piece to the Tony Berry racing puzzle came from the newly formed B&B Motorsports team that began to field a winged sprint car in the middle of the season with the Inland Northwest Sprint Car Association (INSCA). AJB racing crew member Mike Bartle and Tony Berry formed the team with a winning car and competitive power plant with hopes of competing for bigger things in 2007. In the final event of the 2006 INSCA season Berry looked to be in contention for the win after taking the lead on the fourth lap of the 35-lap race, but a caution negated the four-wide pass for the lead. On the restart the #53 car experienced some fuel delivery problems and Berry exited the track running third on lap 27.


The 2006 season started with a bang for the team as Berry piloted the Villelli Racing midget to the inaugural victory at the Oregon State Fairgrounds dirt track in January. It was Berry's first midget win and the first for car owner, Tony Villelli.

"The trip to Salem in January was a lot of fun for all of the guys to get prepared for the season and was an awesome way to pass the time in the middle of the winter! We were hopeful that the win would be the first of many during the 2006 season. We won heat races and trophy dashes, but never quite put it all together for the whole event. It certainly provides some motivation for myself and the team for 2007."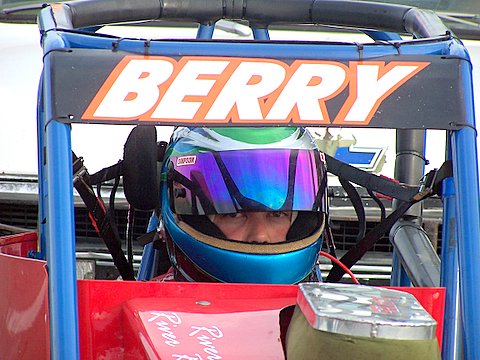 During the off-season Berry will be participating in a new reality T.V. show called Racin' For A Livin'. The show will bring an American Idol flair to the world of professional motorsports, awarding the winner of the series a seven-race opportunity in a NASCAR Busch Series car during the 2007 season. Berry was selected to be among the final 27 contestants that will take part in the shooting of the show through an in-depth review process by a panel of judges and an on-line voting campaign that was decided in August. For more information on the show visit www.racinforalivin.com.

Tony Berry and the AJB racing team would like to thank each of the marketing partners that made the 2006 season possible: the Idaho Army National Guard, ACRAnet, Inc., Racecar Supply, C2P Shocks, Sign Service, Voss Racing, Lucas Racing Photos, Joe's Racing Products, racinforalivin.com, the Speed Sport Report, Villelli Racing, Longacre Racing Products, Don's Group Attire, RPM Sales and Service and AJB Motorsports Marketing.

The 2006 AJB racing team consisted of: Dan and Linda Berry, Bruce Garber, Mike Bartle, Kily Fleming, Chris Kleiner, Leah Dootson, Steven Scrivens, Ron Lucas Jr. and Jacob Stam. Also, special thanks to: Jeff Jefferson, Ron Lucas Sr., Dick Voss, Tony Villelli, Loren Bartle, Nick and Butch Behn, Randy Murray, Rick Hager, K.C. Garber, Terry Armstrong Jr. and Chris Johnson.

For more information on Tony Berry and the AJB racing team visit www.AJBracing.com