Source: WESCO Public Relations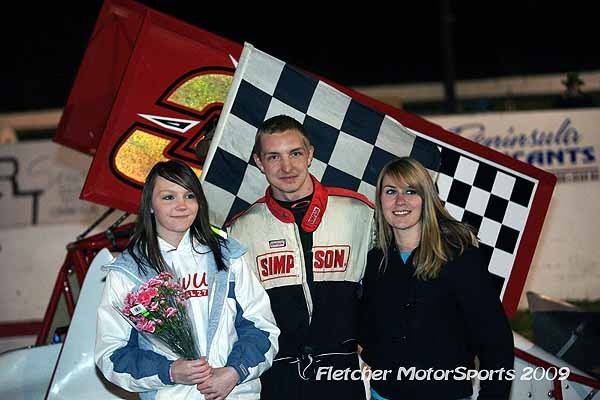 Doug Mclees – Defending WESCO Champion Photo Credit: Fletcher Motorsports

May 22, 2012 (Wenatchee, WA) – When the 2012 WESCO season takes the track June 2nd at the Wenatchee Valley Super Oval (WVSO) in East Wenatchee, WA, it will be a different look for the series embarking on it's 20th season. WESCO has traditionally been a home for both asphalt and dirt sprint car racing – and they may return to that someday soon says series President, Brian Mclees – but for the 2012 season the group will compete only at asphalt facilities and will be buoyed by some new faces that are looking for a home after their local groups have gone by the wayside.
The seven race 2012 WESCO schedule contains three events at WVSO, two races at Stateline Speedway in Post Falls , Idaho and one event each at Yakima Speedway in Yakima , WA and Douglas County Speedway in Roseburg , Oregon . The schedule is also a departure from previous WESCO calendars, but will again allow the journeyman racer an opportunity to take to the track.
There is some real excitement to this season as it fast approaches and the opening event looks to have at least four recent sprint car series champions in attendance, including four time and defending WESCO series champion Doug Mclees, INSCA series Champions Tony Berry (2007) and Justin Popple (2009) and Ephrata Raceway Park track champion Mike Fought.
Also on the expected entry list: Glen Walker, Rich Fast, Tom Beierman, Tim Halliday, Jamie Nations, Daniel Mathews,
Donnie Kudrna, Cody Stewart, and the remaining Mclees Racing operation with Brian, Bruce and Garrett Mclees each fielding cars.
The 2012 WESCO Series Schedule:
June-2 Wenatchee Valley Super Oval – East Wenatchee, WA

June-30 Stateline Speedway – Post Falls, ID

July-14 Wenatchee Valley Super Oval – East Wenatchee, WA

July-20/21 Douglas County Speedway – Roseburg, OR

Aug-4 Yakima Speedway – Yakima, WA

Sept-8 Stateline Speedway – Post Falls, ID

Sept-22 Wenatchee Valley Super Oval – East Wenatchee, WA
For more information on the WESCO Series, please visit
www.wescosprints.com
or contact Brian Mclees @ 360.943.5099.
######################
Photo Caption: Doug Mclees – Defending WESCO Champion
Photo Credit: Fletcher Motorsports