"Forgiveness"
(Author Unknown)
Once upon a time two brothers who lived on adjoining farms fell into conflict. It was the first serious rift in 40 years of farming side by side, sharing machinery, and trading labor and goods as needed without a hitch. Then the long collaboration fell apart. It began with a small misunderstanding and it grew into a major difference, and finally it exploded into an exchange of bitter words followed by weeks of silence.


One morning there was a knock on John's door. He opened it to find a man with a carpenters toolbox. "I'm looking for a few days work" he said.
"Perhaps you would have a few small jobs here and there. Could I help you?"
"Yes," said the older brother. "I do have a job for you. Look across
the creek at that farm. That's my neighbor, in fact, it's my younger brother.
Last week there was a meadow between us and he took his bulldozer to the river levee and now there is a creek between us. Well, he may have done this to spite me, but I'll go him one better. See that pile of lumber curing by the barn? I want you to build me a fence -- an 8-foot fence -- so I won't need to see his place anymore. Cool him down, anyhow."
The carpenter said, "I think I understand the situation. Show me the nails and the post-hole digger and I'll be able to do a job that pleases you."
The older brother had to go to town for supplies, so he helped the carpenter get the materials ready and then he was off for the day. The carpenter worked hard all that day measuring, sawing, nailing. About sunset when the farmer returned, the carpenter had just finished his job.
The farmer's eyes opened wide, his jaw dropped. There was no fence there at all. It was a bridge -- a bridge stretching from one side of the creek to the other! A fine piece of work -- handrails and all -- and the neighbor, his younger brother, was coming across, his hand outstretched.
"You are quite a fellow to build this bridge after all I've said and done." The two brothers stood at each end of the bridge, and then they met in the middle, taking each other's hand. They turned to see the carpenter hoist his toolbox on his shoulder. "No, wait! Stay a few days. I've a lot of other projects for you," said the older brother.
"I'd love to stay on," the carpenter said, "but, I have many more bridges to build."
---
The Starfish
Once upon a time there was a wise man who used to go to the ocean to do his writing. He had a habit of walking on the beach before he began his work.
One day he was walking along the shore. As he looked down the beach, he saw a human figure moving like a dancer.
He smiled to himself to think of someone who would dance to the day. So he began to walk faster to catch up.
As he got closer, he saw that it was a young man and the young man wasn't dancing, but instead he was reaching
down to the shore, picking up something and very gently throwing it into the ocean.
As he got closer he called out, "Good morning! What are you doing?"
The young man paused, looked up and replied, "Throwing starfish in the ocean."
"I guess I should have asked, why are you throwing starfish in the ocean?"
"The sun is up, and the tide is going out. And if I don't throw them in they'll die."
"But, young man, don't you realize that there are miles and miles of beach, and starfish all along it. You can't possibly make a difference!"
The young man listened politely. Then bent down, picked another starfish and threw it into the sea, past the breaking waves and said, "It made a difference for that one."
Dungy Makes Super Bowl Stop to Speak at Athletes in Action Breakfast

DETROIT, Mich. - They were there for breakfast, and they were there to cheer New York Jets running back Curtis Martin. And it was Martin who received the Athletes in Action Bart Starr Award Saturday morning, but the hundreds who gathered in the fourth-floor ballroom at the Marriott Renaissance in Detroit, Mich., on the morning before Super Bowl XL were clearly touched by the featured speaker.

That speaker was Colts Head Coach Tony Dungy.

Two hours into the breakfast, emcee Brent Jones introduced Dungy, who was welcomed with a lengthy standing ovation. Dungy thanked the crowd, shared an anecdote about Martin, then told the crowd he was going to speak for about 15 minutes.

"It's great to be here," Dungy told the crowd, then adding with a laugh, "I just wish I wasn't here in this capacity so many times of being just that close to being in the game and just being an invited speaker.

"My goal is to have our team here one day and have a couple of tables with all of our guys here. Because we have a special group of young men, a great group of Christian guys. It'd be wonderful to have them here so you could see their hearts and what they're all about. "It hasn't quite happened yet, but we're still hoping one day it will."

He told them he was going to talk about lessons he had learned from his three sons. The crowd fell silent. Then Dungy spoke.

And although this was a breakfast - and although at many such events speakers speak over the clinking of glasses and murmurs from semi-interested listeners - for most of the 15 minutes the room was silent except for Dungy's voice.

He spoke of his middle son, Eric, who he said shares his competitiveness and who is focused on sports "to where it's almost a problem."

He spoke of his youngest son, Jordan, who has a rare congenital condition which causes him not to feel pain.

"He feels things, but he doesn't get the sensation of pain," Dungy said. The lessons learned from Jordan, Tony Dungy said, are many. "That sounds like it's good at the beginning, but I promise you it's not," Dungy said. "We've learned a lot about pain in the last five years we've had Jordan. We've learned some hurts are really necessary for kids. Pain is necessary for kids to find out the difference between what's good and what's harmful."

Jordan, Dungy said, loves cookies. "Cookies are good," Dungy said, "but in Jordan's mind, if they're good out on the plate, they're even better in the oven. He will go right in the oven when my wife's not looking, reach in, take the rack out, take the pan out, burn his hands and eat the cookies and burn his tongue and never feel it. He doesn't know that's bad for him."

Jordan, Dungy said, "has no fear of anything, so we constantly have to watch him."

The lesson learned, Dungy said, is simple. "You get the question all the time, 'Why does the Lord allow pain in your life? Why do bad things happen to good people? If God is a God of
love, why does he allow these hurtful things to happen?''' Dungy said.

"We've learned that a lot of times because of that pain, that little temporary pain, you learn what's harmful. You learn to fear the right things.

"Pain sometimes lets us know we have a condition that needs to be healed. Pain inside sometimes lets us know that spiritually we're not quite right and we need to be healed and that God will send that healing agent right to the spot. '

"Sometimes, pain is the only way that will turn us as kids back to the Father."

Finally, he spoke of James.

James Dungy, Tony Dungy's oldest son, died three days before Christmas, 2005. As he did while delivering James' eulogy in December, Dungy on Saturday spoke of him eloquently and steadily, speaking of lessons learned and of the positives taken from experience.

"It was tough, and it was very, very painful, but as painful as it was, there were some good things that came out of it," Dungy said.

Dungy spoke at the funeral of regretting not hugging James the last time he saw him, on Thanksgiving of last year. "I met a guy the next day after the funeral," Dungy said. "He said, 'I was there. I heard you talking. I took off work today. I called my son. I told him I was taking him to the movies. We're going to spend some time and go to dinner.' That was a real, real blessing to me."
Dungy said he has gotten many letters since James' death relaying similar messages.

"People heard what I said and said, 'Hey, you brought me a little closer to my son,' or, 'You brought me a little closer to my daughter,''' Dungy said. "That is a tremendous blessing."

Dungy also said some of James' organs were donated through donors programs.

"We got a letter back two weeks ago that two people had received his corneas, and now they can see,'' Dungy said. "That's been a tremendous blessing."

Dungy also said he received a letter from a girl from the family's church in Tampa. She had known James for many years, Dungy said. She went to the funeral because she knew James.

"When I saw what happened at funeral, and your family and the celebration and how it was handled, that was the first time I realized there had to be a God," Dungy said the girl wrote. "I accepted Christ into my life and my life's been different since that day."

Added Dungy, "That was an awesome blessing, so all of those things kind of made me realize what God's love is all about."

Dungy also said he was asked often how he was able to return to the Colts so quickly after James' death. James died on December 22, and Dungy returned to the team one week later. Dungy said the answer was simple.

"People asked me, 'How did you recover so quickly?"'' Dungy said. "I'm not totally recovered. I don't know that I ever will be. It's still very, very painful, but I was able to come back because of something one of my good Christian friends said to me after the funeral.

"He said, 'You know James accepted Christ into his heart, so you know he's in heaven, right?' I said, 'Right, I know that.' He said, 'So, with all you know about heaven, if you had the power to bring him back now, would you?' When I thought about it, I said, 'No, I wouldn't. I would not want him back with what I know about heaven.'

"That's what helped me through the grieving process. Because of Christ's spirit in me, I had that confidence that James is there, at peace with the Lord, and I have the peace of mind in the midst of something that's very, very painful.

"That's my prayer today.....that everyone in this room would know the same thing."

Here SHE is, the New USS New York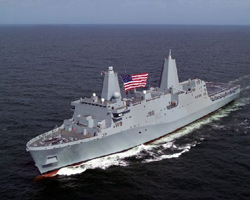 USS New York

It was built with 24 tons of scrap steel from the World Trade Center ..

It is the fifth in a new class of warship -- designed for missions that include special operations against terrorists. It will carry a crew of 360 sailors and 700 combat-ready Marines to be delivered ashore by helicopters and assault craft.

Steel from the World Trade Center was melted down in a foundry in Amite , LA to cast the ship's bow section. When it was poured into the molds on Sept.. 9, 2003 , "those big rough steelworkers treated it with total reverence," recalled Navy Capt. Kevin Wensing, who was there. "It was a spiritual moment for everybody there."

Junior Chavers, foundry operations manager, said that when the trade center steel first arrived, he touched it with his hand and the "hair on my neck stood up." "It had a big meaning to it for all of us," he said. "They knocked us down. They can't keep us down. We're going to be back."

The ship's motto? "Never Forget"
IF and WHEN
by Catherine Pulsifer
IF and WHEN were friends. Every week they met and had lunch. Their conversation usually centered on all the things they were going to achieve. They both had many dreams and they loved to talk about them.

This particular Saturday when they met, WHEN sensed that IF was not in a great mood. As usual they sat at the table reserved for them and ordered their lunch. Once they placed their order, WHEN questioned IF. "IF what is wrong with you? You don't seem your usual cheery self?"
IF looked at WHEN and replied, "I'm not sure, I just don't feel like I am making any progress. This last week I saw a course I wanted to take if only I had the time to take it."

WHEN knew exactly how IF felt. "Yeah," replied WHEN, "I too saw a course and I am going to register when I get enough money together." WHEN then said, "well what about that new job you were going to apply for. You were so excited about it last week, did you apply?"
IF responded, "If my computer didn't break down last week, I would have applied. But, my computer is not working, so I could not type my resume."

"Don't worry about it IF, when you are ready another job will come through. I have been thinking about looking for another job also, but I will wait and when the weather gets nicer I will look then." WHEN then went on to tell IF about his week, hoping that it would cheer him up a bit.

The man at the next table couldn't help overhear WHEN and IF. They both were talking about when this and if that, finally he couldn't take it anymore. "Excuse me gentlemen," the man said. IF and WHEN both looked at the man and wondered what he wanted. The man continued, "I'm sorry, but I couldn't help hearing your conversation. I think I know how you could solve your problems."
IF smiled and thought, how could a complete stranger know how to solve all of their problems. If only he knew. When he realized the challenges they faced there was no way he could solve their problems! Curious, IF asked the gentleman, "How do you think you can solve our problems?"
The gentleman smiled and said, "You only need listen to yourselves. It reminds me of an old proverb:
'If and When were planted, and Nothing grew'."

IF and WHEN looked puzzled. The gentleman smiled and said, "Start counting how many times you use the words 'if' and 'when'. Rather than thinking 'if and when', start doing, take action, stop talking about 'if and when'."

IF and WHEN both looked surprised, and suddenly realized that what the gentleman had said was so true. Both of them were guilty of thinking, acting and living their life for the "ifs and whens". The gentleman left and IF and WHEN's conversation changed. They made a pact that when they met for lunch next week, there would be no "ifs and whens"; they would only talk about what they accomplished!
"Time Management"
One day an expert in time management was speaking to a group of business students and, to drive home a point, used an illustration those students will never forget. As he stood in front of the group of high powered overachievers he said, "Okay, time for a quiz." Then he pulled out a one-gallon, wide mouth mason jar and set it on the table in front of him. Then he produced about a dozen fist-sized rocks and carefully placed them, one at a time, into the jar. When the jar was filled to the top and no more rocks would fit inside, he asked, "Is this jar full?" Everyone in the class said, "Yes."
Then he said, "Really?" He reached under the table and pulled out a bucket of gravel. Then he dumped some gravel in and shook the jar causing pieces of gravel to work themselves down into the space between the big rocks.
Then he asked the group once more, "Is the jar full?" By this time the class was on to him. "Probably not," one of them answered. "Good!" he replied. He reached under the table and brought out a bucket of sand. He started dumping the sand in the jar and it went into all of the spaces left between the rocks and the gravel. Once more he asked the question, "Is this jar full?" "No!" the class shouted. Once again he said, "Good." Then he grabbed a pitcher of water and began to pour it in until the jar was filled to the brim. Then he looked at the class and asked, "What is the point of this illustration?" One eager beaver raised his hand and said, "The point is, no matter how full your schedule is, if you try really hard you can always fit some more things in it!" "No," the speaker replied, "that's not the point. The truth this illustration teaches us is: If you don't put the big rocks in first, you'll never get them in at all."
What are the 'big rocks' in your life? Time with your loved ones? Your faith, your education, your dreams? A worthy cause? Teaching or mentoring others? Remember to put these BIG ROCKS in first or you'll never get them in at all.
So, tonight, or in the morning, when you are reflecting on this short story, ask yourself this question: What are the 'big rocks' in my life? Then, put those in your jar first.

"On Stress"
A lecturer, when explaining stress management to an audience, raised a glass of water and asked,
"How heavy is this glass of water?"
Answers called out ranged from 20g to 500g.
The lecturer replied, "The absolute weight doesn't matter. It depends on how long you try to hold it.
If I hold it for a minute, that's not a problem. If I hold it for an hour, I'll have an ache in my right arm.
If I hold it for a day, you'll have to call an ambulance.
In each case, it's the same weight, but the longer I hold it, the heavier it becomes."
He continued, "And that's the way it is with stress management. If we carry our burdens all the time, sooner or later, as the burden becomes increasingly heavy, we won't be able to carry on. " "As with the glass of water, you have to put it down for a while and rest before holding it again. When we're refreshed, we can carry on with the burden."
"So, before you return home tonight, put the burden of work down. Don't carry it home. You can pick it up tomorrow. Whatever burdens you're carrying now, let them down for a moment if you can."
So, my friend, why not take a while to just simply RELAX. Put down anything that may be a burden to you right now. Don't pick it up again until after you've rested a while.
Life is short! Enjoy it!
Here are some great ways of dealing with the burdens of life:
1.. Accept that some days you're the pigeon, and some days you're the statue.
2.. Always keep your words soft and sweet, just in case you have to eat them.
3.. Always read stuff that will make you look good if you die in the middle of it.
4.. Drive carefully. It's not only cars that can be recalled by their maker.
5.. If you can't be kind, at least have the decency to be vague.
6.. If you lend someone $20 and never see that person again, it was probably worth it.
7.. It may be that your sole purpose in life is simply to serve as a warning to others.
8.. Never buy a car you can't push.
9.. Never put both feet in your mouth at the same time, because then you won't have a leg to stand on.
10.. Nobody cares if you can't dance well. Just get up and dance.
11.. Since it's the early worm that gets eaten by the bird, sleep late.
12.. The second mouse gets the cheese.
13.. When everything's coming your way, you're in the wrong lane.
14.. Birthdays are good for you. The more you have, the longer you live.
15.. You may be only one person in the world, but you may also be the world to one person.
16.. Some mistakes are too much fun to only make once.
17.. We could learn a lot from crayons. Some are sharp, some are pretty and some are dull. Some have weird names, and all are different colors, but they all have to live in the same box.
18.. A truly happy person is one who can enjoy the scenery on a detour.

Piece of Mind
The first rule is to keep an un troubled spirit. The second is to look at things in the face and know them for what they are
--Marcus Aurelius
Peace is not the absence of conflict, but the presence of God no matter what the conflict.
--Unknown
SLOW DANCE
Have you ever watched kids on a merry-go-round
or listened to the rain slapping on the ground?
Ever followed a butterfly's erratic flight or gazed at the sun into the fading night?
You better slow down. Don't dance so fast. Time is short. The music won't last.
Do you run through each day on the fly? When you are asked "How are you?"
do you hear the reply? When the day is done,
do you lie in your bed with the next hundred chores running through your head?
You better slow down. Don't dance so fast. Time is short. The music won't last.
Ever told your child, we'll do it tomorrow and in your haste, not see his sorrow? Ever lost touch, let a good friendship die 'cause you never had time to call and say "Hi"?
You better slow down. Don't dance so fast. Time is short. The music won't last.
When you run so fast to get somewhere you miss half the fun of getting there.
When you worry and hurry through your day, it is like an unopened gift... thrown away...
Life is not a race. Do take it slower. Hear the music before the song is over.

"To be a Christian means to forgive the inexcusable, because God has forgiven the inexcusable in you."
C. S. LEWIS From: On Forgiveness

"Not one of God's children can be evil. At worst, he or she is hurt. At worst, he or she attacks others, and blames them for their pain. But, they are not evil.
Yes, your compassion must go this deep. There is no human being who does not deserve your forgiveness. There is no human being who does not deserve your love."
Paul Ferrini
American Author and Inspirational Speaker

Far better it is to dare mighty things, even though checkered by failure,
than to take rank with those who neither enjoy much or suffer much,
because they live in the gray twilight that knows not victory nor defeat.
--Theodore Roosevelt

" HOW DO YOU MEASURE SUCCESS?
To laugh often and much;
To win the respect of intelligent people and the affection of children;
To earn the appreciation of honest critics and endure the betrayal of false friends;
To appreciate beauty;
To find the best in others:
To leave the world a bit better whether by a healthy child,
a redeemed social condition, or a job well done;
To know that even one other life has breathed because you lived.
-- This is to have succeeded."
--- Ralph Waldo Emerson

There are times when a man should be content with what he has,
but never with what he is.
--William George Jordan

When one door closes another door opens;
but we so often look so long and so regretfully upon the closed door,
that we do not see the ones which open for us.
--Alexander Graham Bell

Progress always involves risk.
You can't steal second base and keep your foot on first.
--Fredrick B. Wilcox

To me a winner is someone who recognizes his God-given talents,
works his tail off to develop them into skills, and uses those skills to
accomplish his goals. Even when I lost, I learned what my weaknesses
were, and went out the next day to turn those weaknesses into strengths.
--Larry Bird

To realize the value of one year:
Ask a student who has failed a final exam.
To realize the value of one month:
Ask a mother who has given birth to a premature baby.
To realize the value of one week:
Ask an editor of a weekly newspaper.
To realize the value of one hour:
Ask the lovers who are waiting to meet.
To realize the value of one minute:
Ask a person who has missed the train, bus or plane.
To realize the value of one second:
Ask a person who has survived an accident.
To realize the value of one millisecond:
Ask the person who has won a silver medal in the Olympics.
Time waits for no one. Treasure every moment you have. You will treasure it even more when you can share it with someone special.
-Unknown

Juggling Life
Imagine life as a game in which you are juggling some five balls in the air.
You name them - Work - Family - Health - Friends - Spirit, and you're keeping all of these in the air. You will soon understand that work is a rubber ball. If you drop it, it will bounce back. But the other four balls-family, health, friends and spirit are made of glass. If you drop one of these, they will be irrevocably scuffed, marked, nicked, damaged or even shattered. They will never be the same.
You must understand that and strive for balance in your life. How?
1. Don't undermine your worth by comparing yourself with others. It is because we are different that each of us is special.
2. Don't set your goals by what other people deem important. Only you know what is best for you.
3. Don't take for granted the things closest to your heart. Cling to them as you would your life, for without them, life is meaningless.
4. Don't let your life slip through your fingers by living in the past or for the future. By living your life one day at a time, you live ALL the days of your life.
5. Don't give up when you still have something to give. Nothing is really over until the moment you stop trying.
6. Don't be afraid to admit that you are less than perfect. It is this fragile thread that binds us together.
7. Don't be afraid to encounter risks. It is by taking chances that we learn how to be brave.
8. Don't shut love out of your life by saying it's impossible to find. The quickest way to receive love is to give; the fastest way to lose love is to hold it too tightly; and the best way to keep love is to give it wings.
9. Don't run through life so fast that you forget not only where you've been, but also where you are going.
10. Don't forget that a person's greatest emotional need is to feel appreciated.
11. Don't be afraid to learn. Knowledge is weightless, a treasure you can always carry easily.
12. Don't use time or words carelessly. Neither can be retrieved.
Life is not a race, but a journey to be savored each step of the way. Yesterday is History, Tomorrow is a Mystery, and Today is a gift: that's why we call it - "The Present"

Your talent is God's gift to you.
What you do with it is your gift back to God.
--Leo Buscaglia

He who controls others may be powerful,
but he who has mastered himself is mightier still.
--Lau Tsu


Life is a song - sing it.
Life is a game - play it.
Life is a challenge - meet it.
Life is a sacrifice - offer it.
Life is love - enjoy it.
-Sai Baba

"For yesterday is but a dream
And tomorrow is only a vision
But today well lived makes
Every yesterday a dream of happiness
And every tomorrow a vision of hope
Look well, therefore to this day."
-Sir William Osler

No matter how far you have gone on a wrong road, turn back. – Turkish proverb